Honda CB 1000R
Get On Road Price
Get Honda CB 1000R Specifications
Get Honda CB 1000R Expert Review
Get Honda CB 1000R Dealers
Get Honda CB 1000R Service Center
Write Review On Honda CB 1000R
Honda CB 1000R Picture Gallery »
Tags:
Honda CB 1000R Rating:
Honda CB 1000R Review
Appearance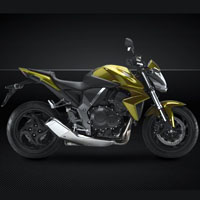 Honda manufactured a number of Naked motorcycles and they are being warmly welcomed. In this bike too, the engineers managed to set it slim, lightweight proportions and cool. The super bike is equipped with most latest technique which are necessary for a super sports bike. The Honda CB1000R is one mean-looking machine too. The super bike is available in various color blends like Dragon Green Metallic, Pearl Cool White, Pearl Nightstar Black, Sword Silver Metallic. The headlamp is design is very special to the machine. No windscreen and small cowl houses V shape headlamp. In the same way, dashboard is also short-sized. The minimal panels and gas tank are just perfect to show off the best bit in a motorcycle – the four pot mill. This bike has short and slim tail cowl and brawny a forward-tilted fuel tank and side cowls.

There is also an exhaust system that mocks the CB unit and that in no time pushes the 1000Rs brand value up a couple of notches. Great bikes need great brakes. And the the machine features discs with Honda's available advanced Anti-lock Braking System. The console comes in all digital mode. The LCD display shows speed, fuel gauge, tachometer and tripmeter. The high-tech assembling of these looks like colourful computer desktop. To provide it the international look, rear suspension is placed under the seat. This fork placing can be also seen in Yamaha Fazer, FZ-16 and FZ-S. The large fuel tank is mounted upto the handlebars. To give this machine a high-tech look, there are magnesium head, ACG covers and natural finish aluminium pivot plates. The wheelbase is wide to provided enough grip on every kind of road. The wheelbase is 1445mm. The seat are provided with eCushions. The rider seat is wider and pillion's is a little short. However, sitting position is comfortable. The rear seat rises and the rear tyre is huge with seat saddle with 820mm height, pitting a little. Honda CB1000R looks big but it doesn't look unmanageable unlike some super bikes. Honda CB1000R designed with more of steel than some other street bikes in the same engine segment and it blend well with chrome.
Engine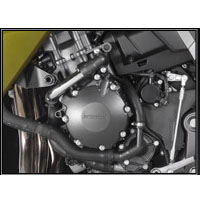 The overall height, length and width of Honda CB 1000R are 1095mm, 2105mm, 795mm respectively. It has a wheel base of 1445mm and kerb weight is 217kgs. It has a ground clearance of 130mm. Honda CB 1000R incorporates liquid- cooled, 4-Stroke, 16-Value, DOHC inline 4 mill. The displacement is 998cc. Honda CB 1000R develops 92kW @ 10000rpm with a 6-speed gearbox transmission and generates a torque of 100Nm@8000rpm. The Honda CB 1000R is started by electric start. The engine has a support of four cylinder and the electrical specifications of the machine are 12V and ignition system is Computer – Controlled digital transistorised with electronic advance. The front suspensions in Honda CB 1000R include 43mm inverted HMAS cartridge and the rear suspension includes Monoshock with gas-charged HMAS damper.

The front wheel has a fully-adjustable radial brakes with 310mm dual hydraulic disc with 4-piston caliper, floating rotors and sintered metal pads and rear wheel has a 256mm dual hydraulic disc with dual-piston caliper and sintered metal pads. This feature is also the main thing which prove it a sporty and safe bike. The disc brakes are highly efficient and gives instant response.

The LCD meter panel features multi-segment LCD tachometer, speedometer, trip meter and fuel gauge. Other features of the Honda CB1000R include dual piston caliper, mono shock rear suspension coupled with adjustable HMAS damper in addition to 310mm floating front-disc brakes. The super sports bike is supposed to well under control without the slightest displacement. The sports bike wide tyres provide high speeds and stability. As it has the wheelbase of 1445mm. Honda CB1000R is equipped with exclusive Antilock Brake System ( ABS ) which the company claims to be unique on bumpy and uneven road surfaces. Ergonomically the CB1000R works. The die-cast aluminium frame is beautifully finished off with a black surface treatment that looks very hard wearing.
Acceleration
This big bike has very impressive figures of acceleration when tested at 0-60kmph. It achieves this in just 3.8 seconds. The top speed is 225 kmph. It is the awesome top speed for Indians.
Fuel Efficiency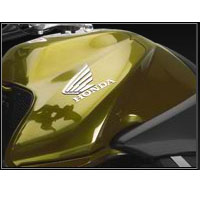 Honda CB1000R is superbike and mileage is not a concern in these type of machines. And these machines are bought for style and power experience of the beasts. So, you should not buy it for mileage. It can give you a mileage of around 16 kmpl. Even though, The maximum capacity of fuel tank is 17 Litres and 4-litres reserve. This four litres is shown on the dashboard on LCD indicator. Large fuel tank capacity saves frequent visits to the petrol pump. One of the widest fuel tank is added to the machine.
Colours
The superbike is available in Dragon Green Metallic,Pearl Nightstar Black,Pearl Cool White and Sword Silver Metallic. The body colour is seen on front mudguard, fuel tank, airscoops and rear side panels. Available colours Are :


Brakes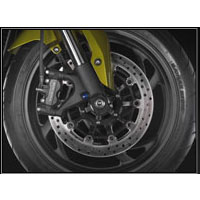 Honda CB1000R sports world class brakes at it. Front brake is dual hydraulic disc with 4-piston caliper, floating rotors. The dimension is 320x 4.5 mm while rear one's dia is 265x5 mm with dual hydraulic disc and single -piston caliper.
Suspension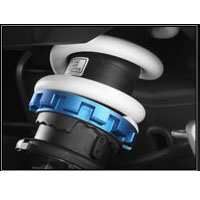 The bike does has the best of the forks at it. The high class suspensions promise butter-smooth ride. Honda CB1000R possesses front 43mm inverted HMAS cartridge and rear Monoshock with gas-charged HMAS damper.
Wheels and Tyres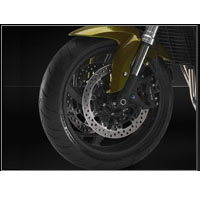 The big bike has big things added. This is the same for wheels and tyres. The Honda CB1000R houses the biggest tyres. The specifications of the bike are: Front -120/70-ZR17 and Rear- 180/55-ZR17. The wheelbase is 1445mm. Now you can imagine the grip on road, it's rock hard. Four spoke large alloy wheels are used in the machine.
Wheel Base and Controlling
Honda CB1000R sports the biggest wheelbase that is a guaranty of solid stability and grip. The wheelbase is 1445mm. For the safety and control, the company equipped with sophisticated disc brakes and forks.
Comfortness
The design of the bike is so comfortable that one would not tired even after a long drive. Good seating posture is given for the rider. Footpegs are there to give rest to legs. The rider has to stretch the arms to hold the handlebars.
Pros
Honda CB1000R is the best bike in the Naked bike segment. As the Honda CB 1000R is a super sports bike, it did prove that its speed is excellent. One can easily say after having the knowledge of the specification of the bike that it is a reliable and durable machine. The safety concern is disappear after seeing the Anti Braking System (ABS) system and high-end braking.
Cons
Cam chain tensioner problem is reported in the Honda CB1000R and some complaints about gear box.
Honda CB 1000R models
Honda CB 1000R specifications
Fuel Reserve
4-litre (LCD–indicated reserve)
Engine Type
Cooled 4-Stroke 16-Value DOHC inline 4
Maximum Power
92 kW/10,000 min-1 (95/1/EC)
Maximum Torque
100 Nm/ 8,000 min-1 (95/1/EC)
Cylinder Bore
75 X 56.5 mm
Ignition
Controlled digital transistorized with electronic advance.
Chassis
Mono – backbone ;cast aluminium
Clutch
Wet, multiplate with coil springs