Honda CB Dazzler
Get On Road Price
Get Honda CB Dazzler Specifications
Get Honda CB Dazzler Expert Review
Get Honda CB Dazzler Dealers
Get Honda CB Dazzler Service Center
Write Review On Honda CB Dazzler
Honda CB Dazzler Picture Gallery »
Tags:
Honda CB Dazzler Rating:
Honda CB Dazzler Review
Appearance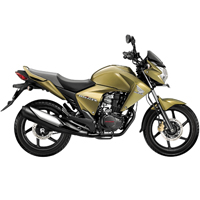 Appearance If you have a close look of the new Honda CB Dazzler, you might notice completely new cosmetic job at various parts ranging from front to rear end. Only the mask of Honda CB Dazzler is good enough to tell you the whole story.

The front view of Honda CB Dazzler comes in aggressive styling around the mask in which new design halogen headlamp is situated. The headlamp shape is trapezoid but its casing is awesome altogether. The mask has thick layered panels, no wind screen as per Honda, which supports dashboard of the Honda CB Dazzler also. The front turn indicators are also placed in a new style just below the handlebars unlike common placing at the panels of mask.

Honda CB Dazzler has got unique shape instrument panel that houses digital speedo cum analogue tachometer, its comes in hexagon shape. There is big shape single pod and other indicators and meters are kept in small size boxes. Just ahead of the console, ignition key hole is located.

Honda CB Dazzler possesses most of the new cosmetic can new design at and around the fuel tank. The tank has got shrouds that turns to be air scoops for better air flow towards the engine; Honda names it floating panels. The tank shroud cum airscoop has got company emblem pasted while the bike model name is given at side panel unlike general practice of placing it on tank. The tank has 3D emblem of the company. Honda CB Dazzler has longer and wide panels in body colour.

Honda CB Dazzler comes with twin tone step-up type seat along with a body colour grab rail and rear side panel. The bike has stunning rear tail lamp that is fitted in a sharp designed casing. Honda CB Dazzler sports black out muffler which is longer and gets chrome finish compact heat cover.
Engine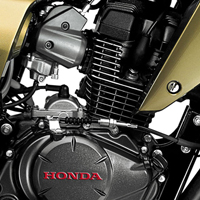 The new product of Honda, Honda CB Dazzler is loaded with refined engine, it comes with 4 stroke, air cooled, single cylinder, SI along with 149.1cc of displacement. The new mill of the Honda CB Dazzler is able to develop a maximum power value of 14 bhp at 8,500 rpm and generates a peak torque figure of 1.3 kg-m at 6,500 rpm. This true sports concept might incorporate five speed manual gears. The gear shifting pattern for this bike is 1 down four up.

Coupled with these engine components, Honda CB Dazzler would perform in better way than its competitors in the class. You can also hope for agile acceleration, better mid and low rpm and great mileage. The engine and other surrounding parts are having black wrapping.
Acceleration
Acceleration and pick-up would not be a big problem in new Honda CB Dazzler as it is powered by a proven engine that promises class leading power and performance. Honda CB Dazzler is fitted with 149.1cc of engine mated with 4 stroke, air cooled, single cylinder, SI. The powertrain of the bike mills a top power of 14 bhp at 8,500 rpm and develops a peak torque of 1.3 kg-m Nm at 6,500 rpm. The Honda CB Dazzler sports five speed gearbox and smooth clutch. To cover 0-60 kmph sprint, it will take around 5.0 seconds only. You can reach to a top speed of 112 kmph as well.
Fuel Efficiency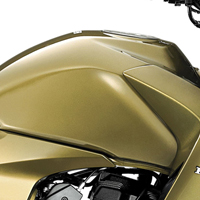 Honda CB Dazzler features a 149.1cc of engine that is taken from its old stable, Honda Unicorn. The engine has got single cylinder, air cooled, 4 stroke, OHC that is capable enough to churn a maximum power of 14 bhp at 8,500 rpm and 1.3 kg-m at 6,500 rpm.

Honda CB Dazzler comes fitted with a fuel tank capacity of 12 litres with a reserve of 1.5 litres. The claimed fuel efficiency from the bike is 60 kmpl.
Colours
The Honda CB Dazzler is a concept sports version of Honda Unicorn, the former was showcased at the Delhi Auto Expo 2010. That concept bike was coloured in dual tone: red and white. In fact we can call it a combination of black, red and white. The recently launched Honda CB Dazzler has got four body colour schemes viz. Armour Gold Metallic, Pearl Nightstar Black, Sword Silver Metallic and Pearl Siena Red. The body colour is on mask, front fender, fuel tank, airscoop, side and rear panels. The engine, muffler and other surrounding parts are painted in black. Available colours Are :


Brakes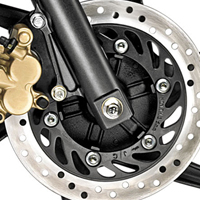 The Honda CB Dazzler houses both side disc brakes, very few bikes has that combination in the segment. The front brake of the bike comes in dia 240mm and rear one also in the proportion of that: 220mm.

This great disc brakes blending ensures ultimate braking and safety for Honda CB Dazzler. The disc brake works for long and are most reliable in all kind of road surfaces.
Suspension
Honda CB Dazzler hosts latest and quality features in it, the company do not leave anything of low-profile to make it a true sports version of Honda Unicorn. The bike has front telescopic type shock absorbers and rear mono-suspension for getting utmost comfort and chassis stability.

The single arm rear shock absorber is fitted under the frame that is not visible without leaning down. You can adjust the rear suspension of Honda CB Dazzler for three times according to road ahead towards your destination.
Wheels and Tyres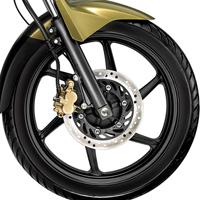 Like other 150cc bikes in India, Honda CB Dazzler is provided with standard wheels and tyres, however, tubeless tyres will attract more to bike lovers in India.

Honda CB Dazzler uses front 80/100-17 M/C 46P and rear 100/80-17 M/C 57P tyres. It has six spoke matte finish alloy wheels. With tubeless tyres, you need need to worry about punctures.
Wheel Base and Controlling
The Honda CB Dazzler has standard tyre specification but the wheelbase is 1328mm, quite good for these tyres. The wheelbase plays an important part to provide required stability and balance to the vehicle. Honda CB Dazzler promises great balance and stability when riding with larger wheelbase, suspension and chassis.
Comfortness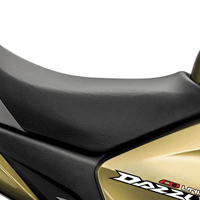 As far as comfort at Honda CB Dazzler goes, you need not to worry at all as it will be equipped with all common and unique comfort features like comfy seat, riding position, footpegs, rear grab rail, latest brakes and suspension.

The seating arrangement in Honda CB Dazzler is quite satisfactory. The seat comes in dual tone and step-up type. The seat is also attached with a body colour rear grab rail for passenger. Enough knee recess is ensured for the rider by keeping the fuel tank's shape compact. The digital dashboard, clear visor, suspension and handlebars assist to give you a comfortable ride. However, kick start option was desirable in the bike as to help starting of the bike in worse weather condition.
Pros
Aggressive design, unique shape mask, stylish rear side view, powerful engine.
Cons
No kick start option, pretty lower wheelbase and fuel tank capacity.
Honda CB Dazzler models
Honda CB Dazzler specifications
Tyre Size
Front 2.75 x 18" ,Rear 3.00 X 18" mm
Engine Type
4 STROKE SINGLE CYLINDER, S.O.H.C, AIR COOLED
Maximum Power
14 Bhp @ 8000 rpm
Maximum Torque
13 Nm @ 5500 rpm
Brakes
Front Disc 230mm dia, Rear Disc
Suspension
Front Telescopic, Rear Advanced Technology Mono-suspension